What Are Your Next Steps to Recovery?
If you or a loved one has been involved in a traumatic accident where emergency care was a necessity, not an option, you may be too overwhelmed by the immediate physical injuries to understand exactly how this accident is going to affect the rest of your life. We understand. You need time to absorb how serious your injuries are before you can begin thinking about the other aspects of your day-to-day life.
But you are going to have to think quickly. UMC Las Vegas is not designed to provide patients with long-term medical wellness plans. UMC provides emergency stabilization care, and the next steps are left to the patients upon their release. Without any medical direction, there are going to be delays in your medical care, and your treatment options are going to be limited simply because you have no idea where to turn for help.
You aren't completely healed, but you are going home. Once you are released from UMC Las Vegas, what are the next steps to getting the treatment you need?
At Bertoldo Carter Smith & Cullen, our attorneys will review the circumstances of your accident, and pursue the negligent person who caused your injuries for financial recovery.
This pursuit will provide the financial support you need to create a straightforward path to follow-up care, including appointments with:
Physicians who will acknowledge the time you need away from work to heal
Medical specialists that focus on your specific injuries
Pain management physicians that can keep you comfortable during your recovery
Rehabilitation and therapy experts who can achieve maximum results with personalized treatment options
Chiropractic professionals who deliver adaptive care
If your injuries require long-term care, creating partnerships between the injured patient and the best medical professionals available is the only positive way to achieve optimal results. Bouncing between clinics and emergency rooms will only lead to scattered care, not purpose-driven medicine. Allow the accident attorneys at Bertoldo Carter Smith & Cullen to assist in your financial recovery once you have been released from UMC Las Vegas, so your care does not end there.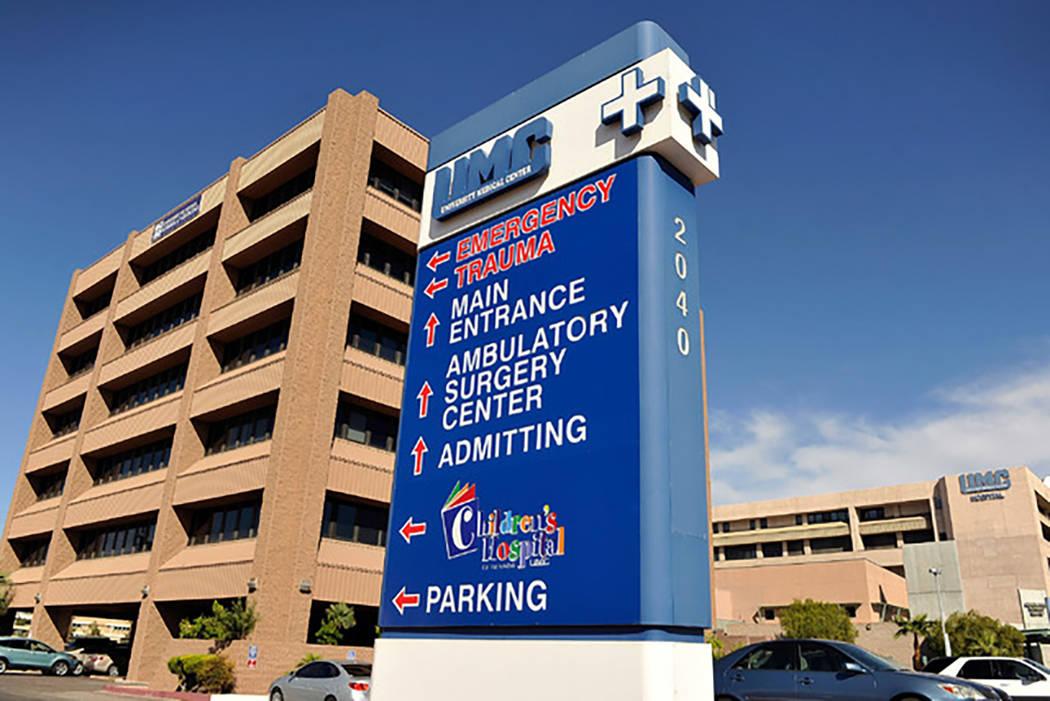 UMC Las Vegas Provides Exceptional Emergency Medical Care
The University Medical Center, or UMC in Las Vegas, is Nevada's only Level One Trauma Center, and the state's only Burn Center. Their highly experienced staff provides sensational medical care quickly and effectively, as most of their patients — like you, or your loved one — are traumatically injured and require the best immediate care available.
Last year, the patient admissions at the UMC Trauma Center in Las Vegas, Nevada were caused by:
Falls: 26%
Motor vehicle crashes: 23%
Penetrating injuries: 15%
Motorcycle crashes: 11%
Pedestrian accidents: 6%
Assaults: 6%
Other: 13%
UMC Las Vegas provides 24-hour healthcare and treatment for those who are threatened with a brain and orthopedic injuries, including TBI and serious neck and spine damage, burn injury victims, and those who require immediate medical treatment. And if you were one of their patients, you know how quickly they work to provide exceptional care. But you also know that further treatment is something you are going to have to seek on your own.
At Bertoldo Carter Smith & Cullen, our Las Vegas accident attorneys witness the roadblocks to managed medical care every day and know that these obstacles lead to direct delays in medical treatment, which can be very dangerous.
There are many reasons injured people delay their medical care, including:
Lack of insurance, which leads to very limited medical options
Absence of a long-term medical plan to guide you through the healing process, so you don't know where to start
Costly care that results in out of pocket expenses, mounting debt, and unpaid medical bills
Your inability to work, which means there is no income, and no money means even more stress
Our personal injury attorneys can help you avoid the pitfalls of managed medical care with a single phone call to our office today. We will provide the help you need to pursue the medical care you deserve.
To Achieve Total Wellness, You Require a Seamless Transfer of Care
Now that your time at UMC Las Vegas has come to an end. Who is going to pay for the medical care you need to regain your quality of life?
Follow-up care, rehabilitation and therapy, and the long-term needs for brain, neck, and spine injuries require on-going medical care — even if you do not have insurance.
Gaining access to the best medical providers who will place you on an assured path to recovery and deliver the full amount of care you need should not be a guessing game. At Bertoldo Carter Smith & Cullen, our Las Vegas accident attorneys provide solutions for seeking financial recovery, so you can afford the quality care you need to get out of bed and pursue a better, healthier you.
Bertoldo Carter Smith & Cullen Accident Attorneys in Las Vegas, Nevada
Traumatic accidents take more than time to heal, they take professional medical care, and access to that care should never be out of reach.
Our traumatic accident attorneys represent victims who have suffered serious injuries, whose voices are not being heard, and whose physical care is being compromised from an accident they did not cause.
We represent men, women, and children of all ages, and from all walks of life, who have been seriously injured in:
What Are You Willing to Live With? Allow Us to Help You Get the Care You Need.
At Bertoldo Carter Smith & Cullen, we know that your physical and emotional well-being should not be taken lightly. Access to quality medical care, in the timely phases in which you need it, is the overriding factor that will determine the success of your full recovery. Do not leave that to chance. Our accomplished accident attorneys will walk you through the process of obtaining the best care available, so you can get your life back.
If you have received emergency care at the University Medical Center in Las Vegas and have been released without a plan for follow-up care or medical solutions that will make you whole again, contact the experienced attorneys at Bertoldo Carter Smith & Cullen today at 702-830-7153 to understand your legal options in pursuing the person or party who caused your injuries. Your medical care should not be limited after an accident. We can help you achieve solutions that lead to your optimal overall recovery.